Effective Leaders Book
EFFECTIVE LEADERS
Four Attributes That Underpin the Core Characteristics of Effective Leadership
Results and performance are achieved through an empowered and engaged workplace, guided by a trusted leader who continuously hones their skills.
Those leaders understand the importance of four attributes (values) that underpin the seven core characteristics of effective leadership, namely: Respect, Courage, Integrity and Agility.
Mike Cameron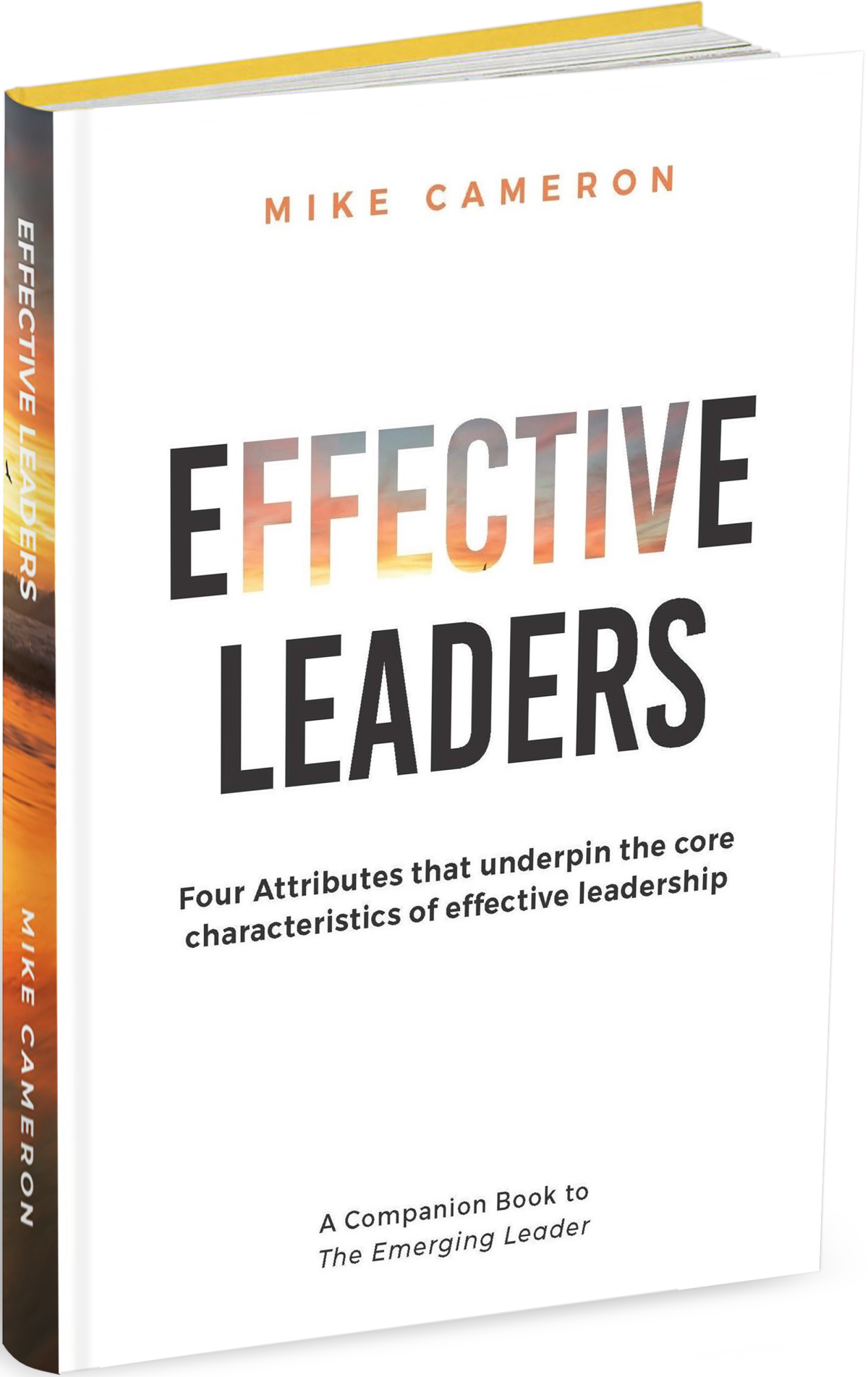 Effective Leaders is packed with interesting stories and lived-experiences from a diverse demographic and wide ranging group of acknowledged leaders and subject matter experts.
The stories highlight the importance of mastering the seven core characteristics of effective leadership whilst establishing Trust in the workplace. There are also chapters on the four attributes (Respect, Courage, Integrity and Agility) that underpin the key leadership qualities.
Effective Leadership Model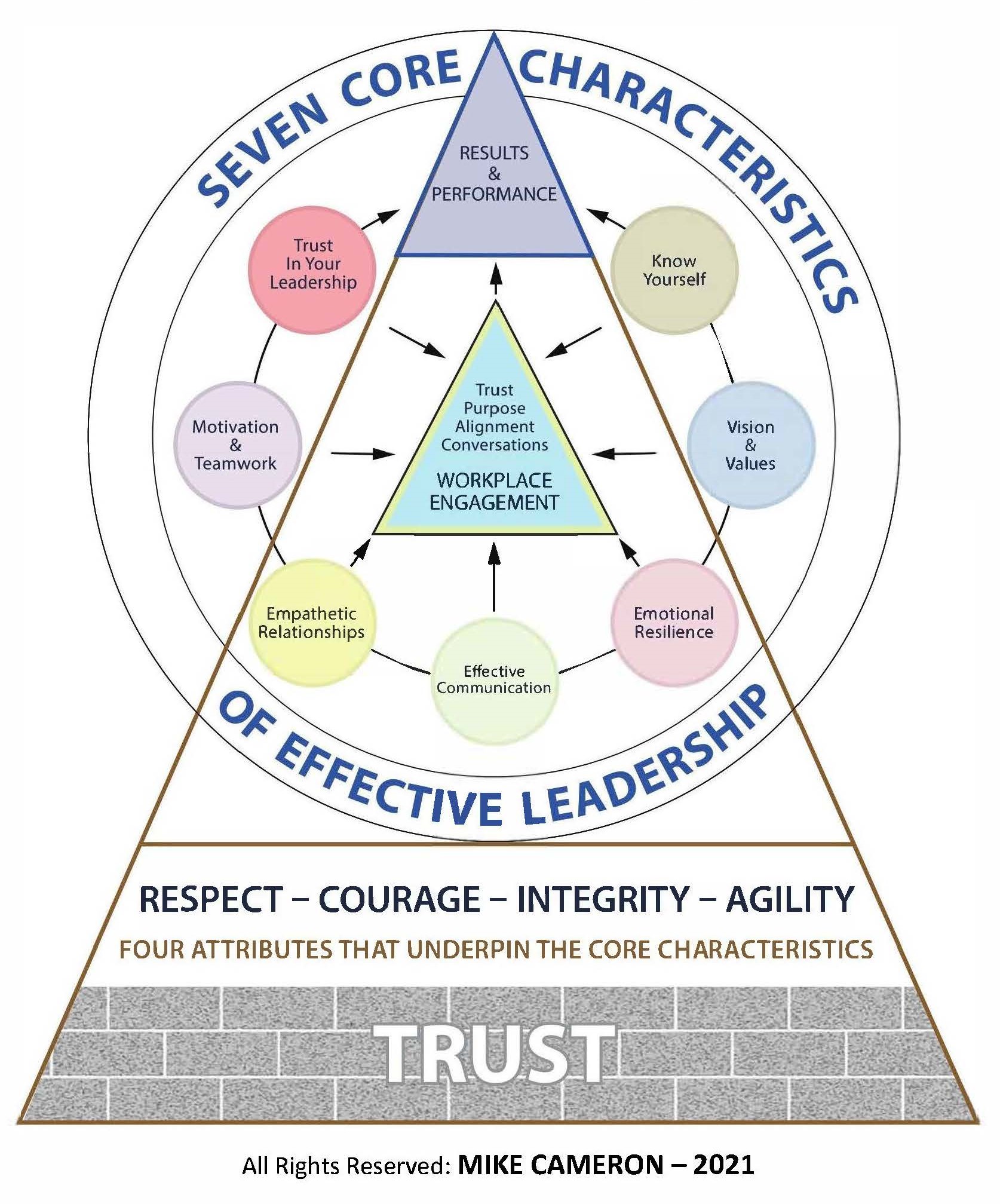 As you progress through the book, you will find articles, stories and narratives from luminaries, authors and subject-matter-experts on;
The Four Attributes that underpin the core characteristics of effective leadership, Respect, Courage, Integrity and Agility.
Workplace Engagement with a focus on Trust, Purpose, Alignment and Communication.
Results & Performance which are discussed in detail,
There are articles to complement the Four Guidelines (and a Reflections page) from the Emerging Leader and finally.
There are lots of diverse, lived-experience and interesting stories to fully cover the Seven Core Characteristics of Effective Leadership.
Foreword
As the world rapidly struggles to control the global pandemic, we see governments and organisations re-evaluate what it means to lead. We often find ourselves comparing one global leader's response to the pandemic with another's reaction; seeing how they are coping with the same set of circumstances and challenges that face them all.
So too, in our own industries, we are comparing one company's response to that of another, observing how each leader handles their reactions. While in the workplace, we are seeing a rapid shift in management behaviour; reassessing how we work, how we manage, how we review our progress, how we build effective teams and asking how can we adapt faster? Indeed, a key word on everyone's lips right now is "how". Whether talking to colleagues, customers, suppliers, friends and sometimes ourselves, we are asking "how" more times than ever before.
Rapidly accelerating shifts are forcing us to focus on transformations; such as the exiting of the workforce from central business districts, the rise in digital conferencing, the online learning portals rather than face-to-face classrooms, home learned schooling, tele-health appointments, the events that you now attend virtually, but not physically, the rapid rise in the adoption of blockchains, crypto currencies and business models where your success or acceptance to participate is dictated by your trust profile. How? HOW?
Necessitated by these rapid changes, there has never been a better time to pursue a deep dive into effective leadership, with a focus towards our personal attributes and readiness for the future. How do we compare? The need to ask "how" applies to each of us and individually we must take the time to reflect on our own leadership attributes to ensure we remain useful, needed and valuable. How? HOW?
Taking time to study leadership is not quite as easy as it sounds. For a start, if your plan is to learn through books, you may be bewildered by your first foray into online book searches. I recently typed into a search engine "leadership" and up popped a 'shortened list' of recommended reads containing 60,000 titles! Most contained a number, for example: The 48 Laws, The 27 Deadly Sins, The 25 Undeniable Keys, The 16 Pathways… etcetera. Not that numbers are a bad thing, but the lower the better in this case! So how do you navigate a course through such a crowded book space? How do you sort out the chiff from the chaff? And, how can you afford the time needed to work it all out?
You are well on your way to short circuit the journey by reading Mike Cameron's "The Emerging Leader" and this companion text "Effective Leaders".
I first met Mike in 2011 when I was a country manager for a multi-national organisation. Being new to the role, and having just returned from a stint overseas, I was given a clear directive to grow the local business. The growth target, as rolled out by Corporate HQ, stated firstly, that your growth funnel, in consolidated revenue terms, needed to exceed fifty percent of your current annual revenue and secondly, be deliverable within five years (with a probability score higher than fifty percent attached to each project's likelihood of delivering sales). This was a pretty tough ask, especially for a division that had very stable revenues and had been focusing on cutting costs rather than growing.
Together, we pondered upon the transformation that was needed in my team and set about delivering a learning program for our executive team that would help to set the scene for my next six years in the role. Mike, in his wisdom, tailored the course content and coaching to suit our needs and over time my team and I became effective leaders. It was a journey we shared, it was emotional and it was challenging. Since this time, we have remained in touch. I have learned that he is far more than an experienced manager who is good at organisational coaching; Mike is clever, insightful and gifted. I have also learnt what is at the core of his belief in how to become an effective leader. It is fundamentally the need to be a good person and to build it up from there. So, it came as no surprise to me that Mike wrote these books to teach, in large part, what the core of effective leadership means through the lens of his years of experience. Mike gives leaders a gift, a framework to explore leadership through his beliefs in seven core characteristics and the four attributes of effective leadership.
As a companion book to The Emerging Leader, this text, Effective Leaders continues the journey by offering numerous narratives, based on these seven characteristics, from currently active and experienced leaders. However, the reader is encouraged to lead with their own blend of the four key attributes; which are Respect, Courage, Integrity and Agility. There are chapters, containing stories and anecdotes about these important values, from some of the best writers and contributors in their field, that will inspire the reader and persuade them to indulge in these life lessons.
The book serves to whet your appetite to delve deeper into leadership literature, but unlike my own on-line search that revealed 60,000 titles, Mike will serve you with a reading list of focussed and carefully chosen pieces, each one providing an important contribution to your own leadership journey. In The Emerging Leader, he shared with you his own journey of learning, carefully, succinctly, blending his experiences and observations of leadership competencies with the work of storytellers and leading authors.
As we prepare for the leadership challenges of tomorrow, we can only hope that experienced and emerging leaders will find a worthy leadership path for themselves. A path that is built on their attributes and a desire to lead because, after all is said and done, they acknowledge that leadership is an honour as well as a privilege.
It will expose you for who you really are.
How will you measure up?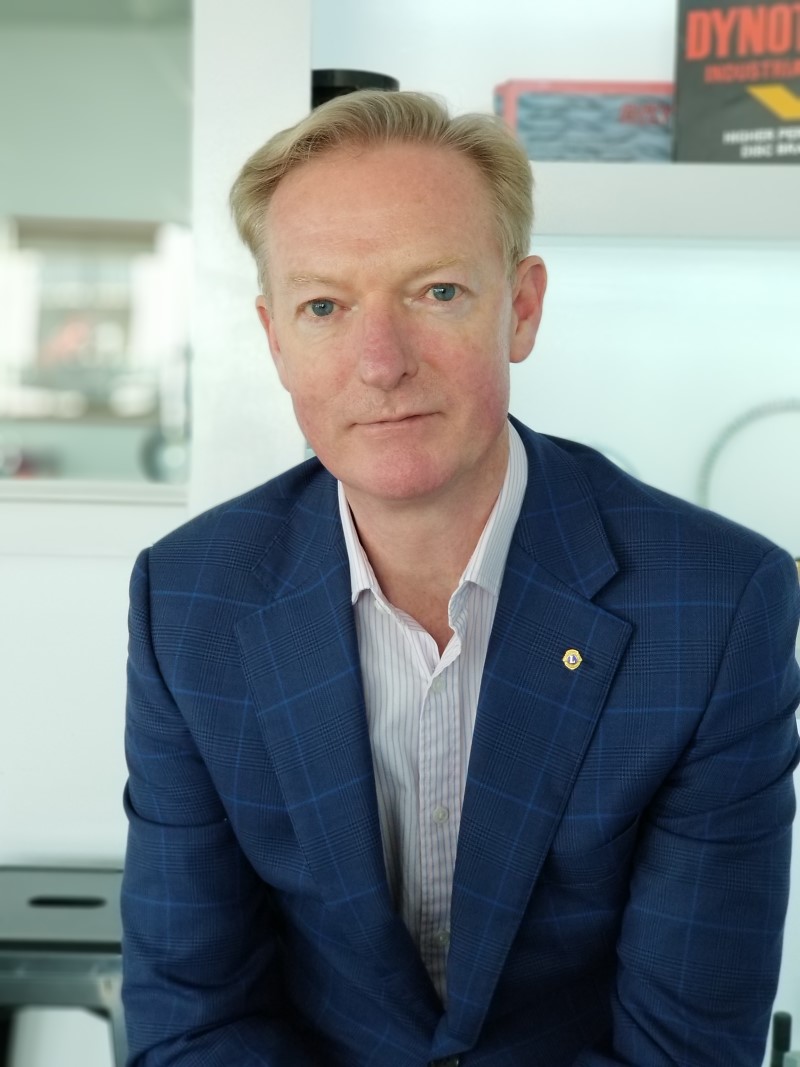 Martin Toomey
Business Owner, Transport Equipment Australia and Chair of ARTSA-i
(an independent thinktank for the transport industry)
Overview
I hope that you have found, or will find, that this book complements The Emerging Leader while offering new insights, additional self-coaching support and a wealth of information, tips and tools through contributions from many worthy, local and globally-based authors.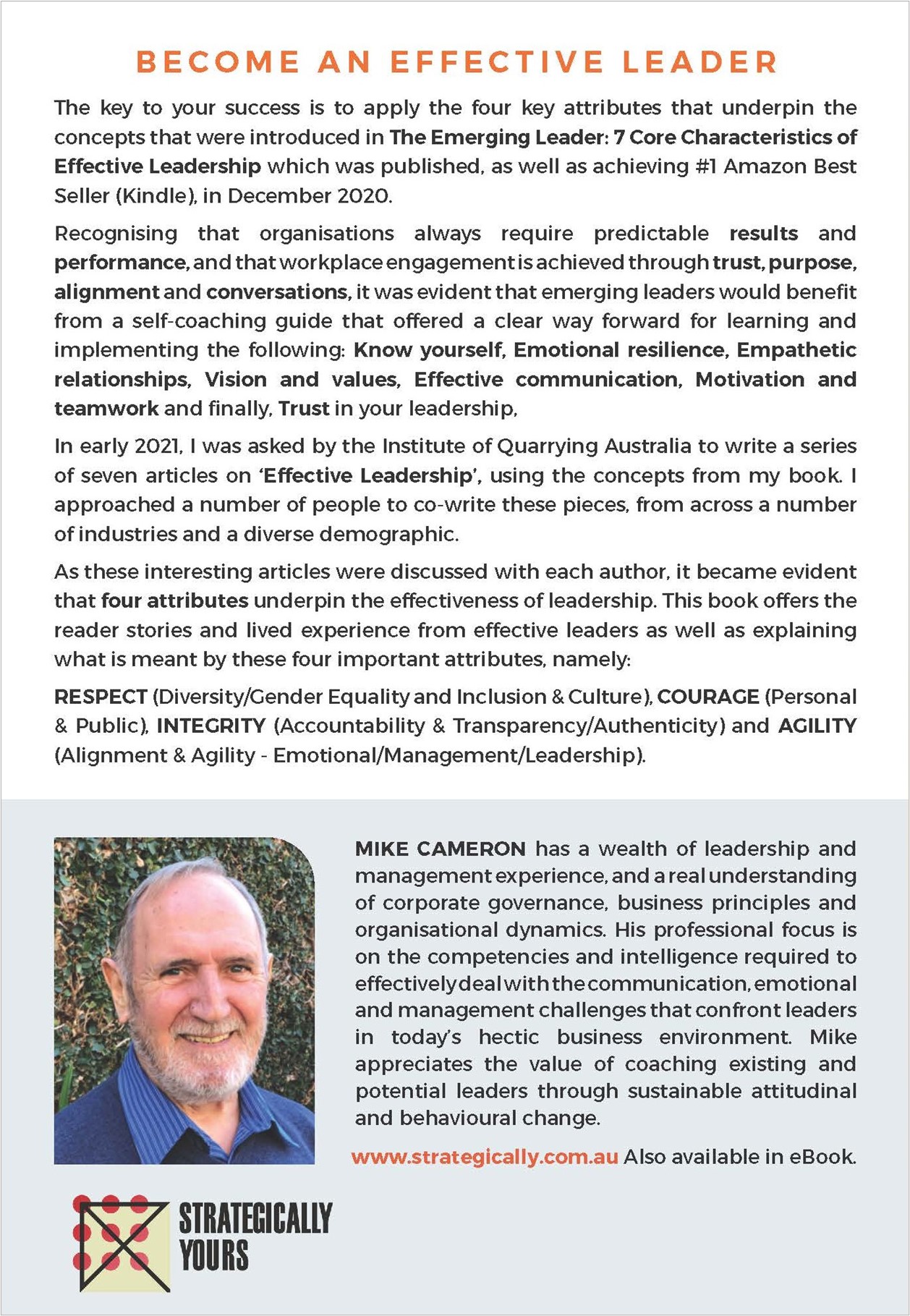 However, I would also suggest that you as a leader, an influencer, a subject-matter-expert and a person who likes to challenge their thinking, take a look at the articles which address the FOUR attributes that underpin the core characteristics of effective leadership, namely:
RESPECT: (Diversity/Gender Equality/Equity and Inclusion & Culture and Inclusion)
COURAGE: (Personal & Public)
INTEGRITY: (Accountability & Transparency/Authenticity)
AGILITY: (Alignment & Emotional/Management/Leadership)
For example, given an assumption that there is a genuine intention to actively support significant long-term change, and the meaningful inclusion of Aboriginal culture into the Australian way of life, what information would you, as a leader, need to consider with regard to just one aspect of the term RESPECT: (Culture and inclusion), as it relates to:
The way in which the diverse peoples, tribes, communities - across Australia and the Torres Straits want:
Their history, culture, knowledge of Country and current needs to be understood by the other inhabitants of Australia
To be recognised and listened to across all levels of government (Federal, State and Local) with an acceptance that this will have an impact upon existing policy and guide future policy direction, and
The authorities, regulators and service providers better manage their specific accountabilities and regular interaction with the Aboriginal communities.
"Regardless of WHAT we achieve in our lives, our WHY – our driving purpose, cause or belief – must always be based on the principles of ethics, trust and integrity."
Mike Cameron
Book Contents